Happy, Healthy French Bulldogs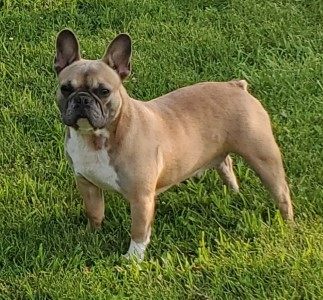 We want to thank you for visiting us and would like to tell you all about us, our dogs and our program. We have been involved with breeding Bulldogs for over 30 years and worked with and shown many different breeds of them, producing several Grand Champions along the way!
Our dogs are all AKC registered and NKC registered or registerable. We DNA test our dogs for health and color and other important information. Most of our dogs are raised from our stock, the rest come back from lines we have produced in the past or from the original foundation lines we started our original lines from.
Our dogs are chosen for health, structure, temperament and lastly color and markings. We concentrate on the first three items as those are the foundation of your dog, if you don't have those excellent features, it doesn't matter what color or markings you have. Only healthy dogs with good structure can have good temperament or attitude.
We are an NKC Licensed Kennel, licensed and inspected yearly by the State of Illinois. We are inspected by the AKC yearly and are proud to have passed all inspections every time. (Inspections are always unscheduled and unannounced.)